PROJECT Trio
February 20, 2011 - 4pm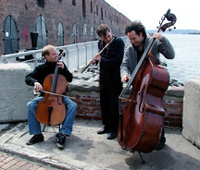 PROJECT Trio is a passionate, high-energy music ensemble comprised of Greg Pattillo (flute), Eric Stephenson (cello), and Peter Seymour (bass), three virtuosic composer/performers from Brooklyn, N.Y.  Blending their classical training with an eclectic taste in musical styles, PROJECT Trio is a musical experience defining a new level of entertainment for all ages.  From hip hop to chamber music, PROJECT Trio is a musical experience not to be missed!
Recognized throughout the world for his redefinition of flute sound, Greg Pattillo has become a YouTube sensation, with performance videos showcasing "beatbox flute" viewed more than 20 million times.  An exceptionally versatile cellist, Eric Stephenson's style ranges from classical to jazz to rock and folk. He is a member of the IRIS Chamber Orchestra in Memphis, Tenn., and the Colorado Music Festival.  Dallas native Peter Seymour has performed alongside Wynton Marsalis, Roy Hargrove and Bobby McFerrin and serves as a regular sub with the Cleveland Orchestra and the New World Symphony.
"PROJECT Trio runs on high-octane chamber music!" - Mark Hinson, Tallahassee Democrat
"Greg Pattillo is the best in the world at what he does." David Randall, New York Times
Tickets can be purchased online at TicketMaster or by calling the Convocation Center Box Office (757.728.6800. Monday - Friday, 9am - 4:30pm).